November 06, 2020
BRO-D-Q Citrus Chicken Taco with Roasted Corn Pico Salsa and Cilantro Creme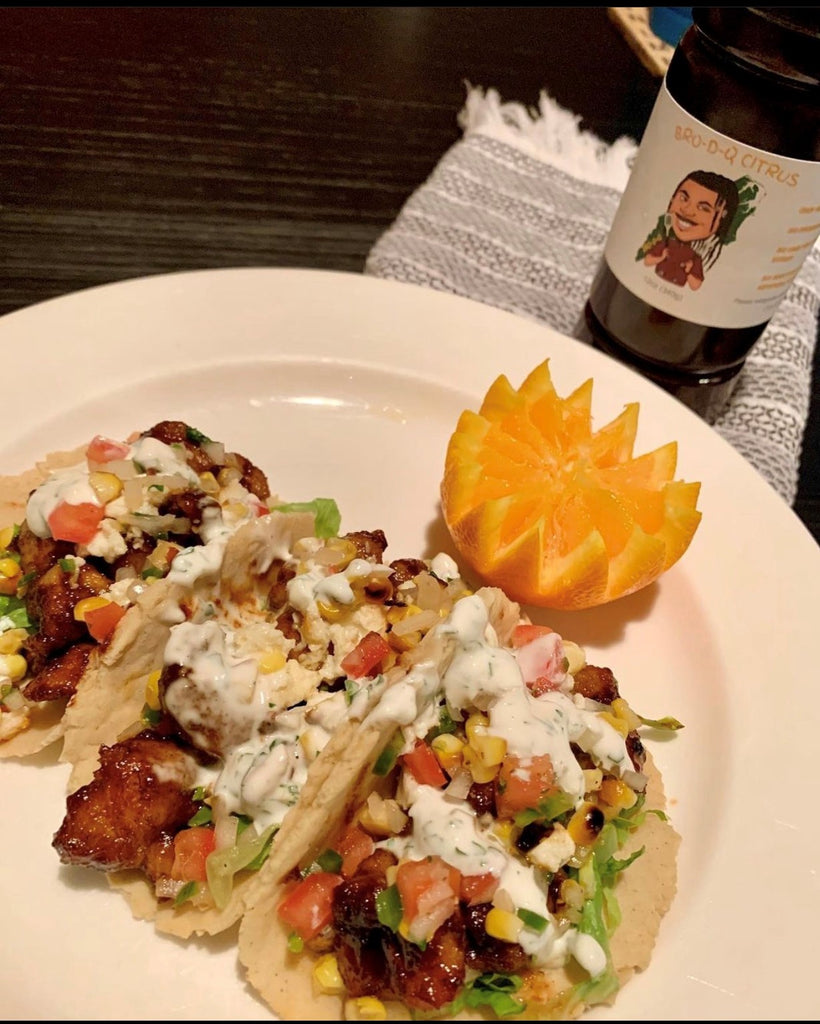 Elevate your tacos today by simply tossing your protein in BRO-D-Q Citrus
Cilantro Crema
1/2 c Mayo
1/2 c Mexican crema
1 ea lime, juiced
2 tbsp cilantro, chopped
1/4 tsp ground Cumin
1/4 tsp Paprika
1/4 tsp Chili powder
1/4 tsp black pepper
1 tsp salt
In a medium mixing bowl, combine all ingredients,  except lime, until thoroughly mixed. Next, add in juice from half of a lime and mix, adding more if desired. If sauce is too thick, use cool water to adjust to desired consistency. Refrigerate until ready for use. The longer this sauce is allowed to sit, the better the end result. 
Yield: 1 cup 
Roasted Corn Salsa
1/2 cup roasted corn, frozen or fresh 
2 roma tomatoes, diced
1/2 red onion, small dice
1 ea jalapeno pepper, diced
1 tbsp cilantro, chopped
1 ea lime
Ground cumin, to taste
1/4 tsp Ground coriander
1 tsp Salt
Add all diced ingredients to a medium mixing bowl. Starting with juice from half a lime, season the salsa with salt, pepper, coriander and ground cumin to taste.
*if using fresh corn, remove husk, coat with pan spray and broil on low until entire ear is lightly roasted, not burned. Cool slightly, lay flat on board and slice off kernels.
*If using frozen corn, thaw and pat dry with a paper towel. Toss with 1- 2 tbsp of olive oil on a sheet pan. Broil on low until lightly roasted. not burned.