June 03, 2021
Berbere Steak and Eggs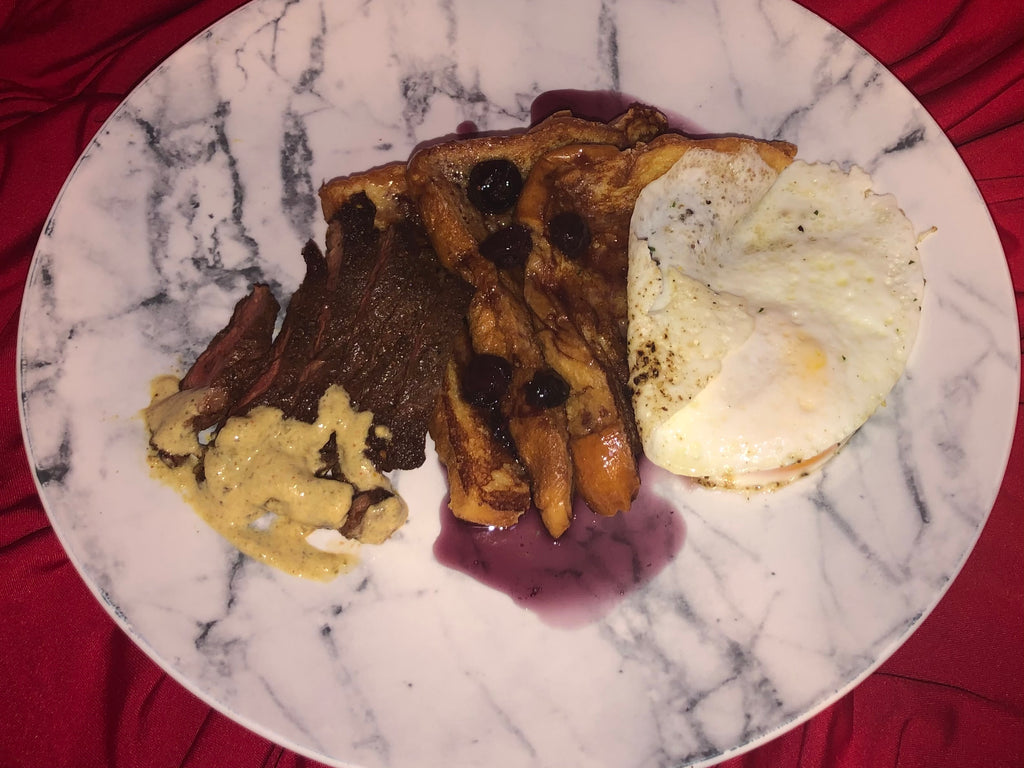 One of my favorite, new spice blends that I've really been enjoying with every protein so far is Berbere! (pronounced 
'ber-bə-ˈrā') 
This is a pungent and very aromatic spice blend that originates from Ethiopia. In Ahmaric, Ethiopia's state language, Berbere translates into "pepper" or "hot". 
The really cool part is, Berbere isn't solely utilized for meats;  especially since meat is sometimes a hot commodity in Ethiopia and surrounding countries. Berbere is used as a base for many of the dishes that belong to the region, including rice dishes and stews, and especially 'doro wot' or red chicken stew, which is the national dish of Ethiopia.
There is a lot of Asian influence in the creation of Berbere, which didn't become prevalent in Ethiopia until about the 5th century, when trade allowed access to spices from India as well as China. The heat and ratios vary from region to region since there is no set recipe for this essential spice blend. Just like any blackened seasoning or salt- pepper blend, the ratio depends on the user and their preference. So by all means, use this recipe as a base and then tweak it to find what flavors or spices you favor the most. For instance, I love coriander and cinnamon! Feel free to put your own twist or twang on it. If you're having difficulty finding a few of these spices, especially the fenugreek and cardamom, check out your local Asian market. If you find yourself still searching, definitely try an Indian grocery store. Or, if you're not up for the spice hunt, there's no shame in buying already prepared Berbere.
The recipe below will yield way more Berbere needed for any single use. I LOVE berbere on chicken and beef so far. But trying it on SEAFOOD is definitely apart of my list of things to do! Also, be sure to have a coffee grinder or mortar and pestle on hand.
Berbere Spice Blend
2 tsp Coriander Seeds
2 tsp Cumin Seeds
5 Green Cardamom Seeds
1 Tbsp dark chili powder plus more to Taste or 2 Dried Red Chili Peppers(arbol or thai chilis)
4 Whole Allspice Berries or 1 tsp ground
1/2 tsp Cloves
1 tsp Fenugreek Seeds
1/2 tsp Black Peppercorn
2 tbsp Sweet Paprika
1/2 tsp Ground Cinnamon
1/2 tsp Ground Ginger
1/2 tsp Ground Turmeric
1/2 tsp Ground Nutmeg
1/2 tbsp kosher Salt, to taste
Start off by toasting off all your whole spices in a dry saute pan with no oil, over low medium heat. It may be easier to toast in batches to get an even toast. It's important not to skip this step because heat activates the oils in whole spices, allowing them to become more potent. Allow spices to cool on a plate before grinding. You'll know your spices are plenty toasted once you see a slight color change and they become very aromatic; kind of like a light room perfume lol. Once all of the spices have been toasted and cooled, transfer both the whole spices and ground spices to a spice grinder or mortar and pestle. The grind is up to the user whether to have a more coarse grind that would be really good on meat proteins, or a more fine powder that works just as well in stews and other dishes. The finished product will be light red to brick red in color depending on your spice tolerance, or even more orange if you go heavier on the tumeric. Taste it, tweak it, and Enjoy!